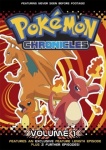 The Cartoon Network will premiere the Pokemon Chronicles anime series on Saturday June 3rd at 7pm (ET, PT) during its Toonami block. The Pokemon Chronicles have already aired in Britain and Latin America.
The 22 episodes of The Pokemon Chronicles series are not part of the continuity of the regular Pokemon anime series. During the fifth season of Pokemon in Japan a number of special episodes, which were not centered on the character of Ash, were produced and shown on TV Tokyo where they were known as the Housou episodes (after the title of the series, Shuukan Pokemon Housoukyoku). Until recently U.S. Pokemon licensor 4Kids Entertainment had ignored these episodes, but they have been dubbed into English and last year they were aired in Britain.
The series should begin with the feature-length (three episodes long) The Legend of Thunder saga.