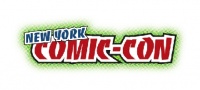 New York Comic-Con has announced its 2007 dates, February 23-25, and a larger space in the Javits Center, which will allow the show to more comfortably accommodate the huge crowds that showed up this year (see 'Huge Crowds at New York Comic-Con'). The new dates move New York Comic-Con off its 2006 head-to-head match-up with MegaCon in Orlando, which will be held February 16-18 in 2007.
Reed Exhibitions also announced the 2006 attendance, over 33,000 unique attendees. Some shows report turnstile attendance (counting each person through the turnstiles as a separate attendee), meaning that a person that attends all three days would be counted as three attendees. Reed reports unique attendees, meaning that a person that visits the show all three days is counted as a single attendee. This is similar to the way San Diego Comic-Con reports its attendance, but is different from the way some other shows describe their numbers.
Based on an apples-to-apples comparison, New York Comic-Con debuted as one of the top pop culture shows in the country. San Diego Comic-Con is easily the top annual show (see 'San Diego Bursting at the Seams'); NYCC was probably the second or third largest show its first year out of the gate.
Of the 33,000 attendees, over 6,000 were members of the trade, including independent comic, book, and toy retailers; chain retailers, licensing and rights professionals, librarians, and creators. About another 1,000 of the attendees were exhibitor personnel. Press attendance was also very strong, with over 700 attending.
New York Comic-Con's exhibit floor will now occupy premium space on the top level of the Javits, with over twice the total square feet of the 2006 space, allowing twice as many booths and much wider aisles (the show had only 8-foot aisles throughout the exhibit floor in 2006, but will have 12- and 20-foot aisles in 2007). The exhibit area will also have two entrances, each much larger than the single entrance to the 2006 exhibit floor. The lobby area for the upstairs space is five times the size of the lobby for the 2006 show, which should also help accommodate a larger number of attendees. And space for programming will also grow by about one third. 'The Javits came up big to accommodate this show,' Reed Exhibitions Group Vice President for Launch Pad Greg Topalian said of the new space.
Despite the greatly expanded exhibit space, the exhibit floor is expected to sell out, according to Topalian. 'Past exhibitors are re-upping quickly, and new exhibitors are buying in fast,' he said. 'We would have liked to have even more space if possible, but this is the best we could do.'
Beyond the additional space, Topalian described some of the other steps that the show will take to handle the crowds more comfortably. 'We want to make the show safe and comfortable, and make sure everybody has a great time,' he said.
Registration will be handled from twice the number of ticket counters. Only exhibitors and professionals will receive badges; other attendees will simply receive a bracelet showing they've paid. Separate lines will handle pre-registered attendees and those that are registering on-site. Fans that pre-register online will be able to show their bar-coded registration, have it scanned, and be quickly issued a bracelet. Pre-registered exhibitors and professionals will have their credentials mailed out in advance, allowing them to bypass onsite registration.
The show is also going to undertake a campaign to get attendees to pre-register, including offering lower prices for pre-registered attendees than on-site registrants will pay. This will enable the show to cut off ticket sales, if the show's maximum is hit, with minimum inconvenience to the fewest number of people, according to Topalian.
Reed is also going to make sure more people in customer contact positions are Reed's rather than Javits employees.
Hours will be expanded. Both trade and consumer hours on Friday will be extended, and the exhibit floor will also be open more hours on both Saturday and Sunday.
The first guest announcements for the 2007 show will be made in August.