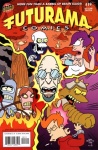 The New York Post is reporting that Futurama is definitely coming back with at least 13 new episodes that will premier on Comedy Central in 2008. The return of Futurama, which has been rumored for some time (see 'Futurama to Return?'), will mark only the second time that a canceled TV series has been resurrected -- and both of the reconstituted series were animated (the other was Family Guy) and both series originally appeared on the Fox Network, but were revived thanks to hugely popular runs on the Cartoon Network's Adult Swim.
According to the Post, all the original voice talent has been re-signed, along with the production staff. Katy Sagal, who voices Leela, confirmed the return of Futurama on Craig Ferguson's Late Late Show earlier this week. Late last year Comedy Central outbid the Cartoon Network for the rights to the 52 original Futurama episodes and will begin showing them when Cartoon Network's contract runs out in 2008. Comedy Central also has the rights to air any new episodes as well, and is most likely involved in the financing of the new shows (Futurama is a much more expensive show to produce than Family Guy).
The return of Futurama is good news for pop culture retailers since the series has spawned a lot of great merchandise including extremely popular DVD collections and an excellent comic book series from Bongo.