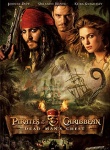 Disney's Pirates of the Caribbean: Dead Man's Chest set all sorts of box office records in its opening weekend. Its estimated $132 million three day total annihilated Spider-Man's $114.8 million debut; and even accounting for the inflation in ticket prices since Spider-Man opened in 2002, Pirates sold at least 200,000 more tickets. Pirates' $55.6 million take on Friday set the largest single day box office record, and the Disney sequel became the first film to pass $100 million in just two days at the box office. It seems improbable that Dead Man's Chest will be able to demonstrate the kind of legs that its predecessor displayed, but then no one predicted a $132 million opening either.
The Pirates of the Caribbean sequel averaged a spectacular $31,944 for each of its 4,133 theaters and brought in an audience that was 50% female, proving that an action picture that can appeal to a female audience is a truly potent attraction, and testifying to the distaff drawing power of stars Johnny Depp and Orlando Bloom.
Meanwhile, last weekend's box office champ Superman Returns dropped 58% while earning an estimated $21.8 million.

Superman Returns has earned $141.6 million, and should make it past the $200 million mark, but not much farther since its eclipse at the hands of Pirates appears to be near total at this point.