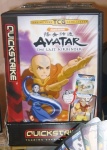 Upper Deck is planning a major promotion with Burger King for its Avatar Trading Card Game. The promotion, which will run from August 28th through September 30th, will be supported by print, on-air and in-store advertising. Upper Deck will provide Avatar TCG cards to all Burger King outlets in the U.S. and Canada to be included in their Kids Meals. There will be a total of eight different cards to collect and each card will be accompanied by one of eight different Avatar toys.
Upper Deck's Avatar TCG is based on the Avatar animated series that runs on Nickelodeon, where it has been exceptionally successful -- it is the most popular cartoon on broadcast or cable TV for boys ages 6-11. The power of the property can be seen in the performance of the Avatar Cine-Manga from Tokyopop, the first volume of which sold over 500,000 copies (see 'Avatar Cine-Manga Tops 500K').
In conjunction with its Burger King promotion Upper Deck is sponsoring special screenings of a new one-hour special, Avatar: Secret of the Fire Nation at nine theaters in eight major markets including Los Angeles, New York, Philadelphia, Washington D.C., Ann Arbor, Louisville and Providence on September 9th. The screenings will include demonstrations of the Avatar TCG and attendees will receive promotional booklets, gift bags, and special trading card game products. Kids lucky enough to be able to attend will also have a leg up on their friends, since the one-hour Avatar: Secret of the Fire Nation special won't air on Nickelodeon until Friday, September 15 at 8 pm (ET, PT).