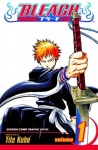 The BookScan list of graphic novels sold in bookstores for the week ending September 17th displays the effect of the debut of the Bleach anime on the Cartoon Network on September 9th. The first volume in the Bleach manga series, which was originally released in June of 2004, soared to #7 on the list, while Bleach Vol. 2 jumped up to #20. It was the strong backlist sales of Naruto that heralded the 'Cartoon Network effect,' after the Naruto anime debuted last September.
It's unlikely that Bleach will be able to fully replicate Naruto's performance -- for one thing there are 14 volumes of Bleach out now versus seven volumes of Naruto in 2005, which means that new adopters have to make a much bigger commitment to Bleach. Also the scale of Naruto's success was, and remains, staggering. So far in 2006, Naruto Vol. 1 has sold more than 70K copies in the bookstores -- and the only books that have sold more are Volumes 9 & 10 of Naruto. According to one industry observer, sales of the 11 volumes of Naruto so far in 2006 account for just under 10% of total manga sales for the year.
There are now seven volumes of Bleach in the BookScan top 50, so it will be interesting to see if the 'CN effect' continues in the coming weeks. On this week's list, Naruto Vol. 11 remained on top (ICv2 does not consider the Far Side Box Calendar a graphic novel) followed by Fullmetal Alchemist Vol. 9, Naruto Vol. 1, and Tokyopop's DN Angel Vol. 11 at #4 and Naruto Vol. 10 at #5. Del Rey's Negima Vol. 11 was at six followed by Bleach Vol.1, Naruto Vol., 2, Fruits Basket Vol. 14 and Naruto Vol. 4.
All eleven volumes of Naruto were in the top 18. Viz Media's Death Note Vol. 7 at number 13 and Hot Gimmick Vol. 12 at 16 were interspersed between various volumes of Naruto.
Manga titles held 42 out of the top 50 spots. Marvel's Halo Graphic Novel was the top non-manga release at #20. Other top 50 non-manga books include Alan Moore's V for Vendetta (#24), Scott McCloud's Making Comics (#27), Lynn Johnston's She's Turning Into One of Them (#30), Dark Horse's Penny Arcade Vol. 2 (#36), and Alan Moore's Watchmen (#40) and Lost Girls (#42).
Tokyopop's Star Trek manga came in at #48 and Jake Forbes' Return to Labyrinth was 45th on the list.