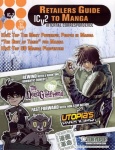 Kurt Hassler, the graphic novel buyer for the Borders Group, is the most powerful person in the American manga publishing industry according to a survey conducted in ICv2's Retailers Guide to Anime/Manga #16. To arrive at this list ICv2 interviewed key players from all elements of the industry including the publishers, distributors, and retailers. We asked our interview subjects to concentrate on the American side of the market and to look for those key figures who had influence not only over the actions of their own companies, but also over others not in their control. We developed a system to tabulate their responses and came up with the following list of the Ten Most Powerful:
1. Kurt Hassler, Graphic Novel Buyer, Borders Group
2. Hidemi Fukuhara, Chief Executive Officer, Viz Media
3. Stuart Levy, Founder, CEO, Chief Creative Officer Tokyopop
4. Dallas Middaugh, Associate Publisher of Manga, Del Rey
5. Jim Killen, Graphic Novel Buyer, Barnes & Noble
6. Mike Richardson, CEO & Publisher, Dark Horse
7. Mike Kiley, Publisher, Tokyopop
8. Yumi Hoashi, EIC & VP of Magazine Division, Viz Media
9. Hikaru Sasahara, CEO, Digital Manga Publishing
10. Masashi Kishimoto, Creator of Naruto
The article provides the reasons (gleaned from our interviews) why each person ended up on the list, and also lists the next ten runners up (presented in alphabetical order).
The new Guide includes 'Shojo Rising' in which ICv2 examines the growing number of shojo anime releases, as well as a 'Holiday Gift Guide.' Continuing the tradition established in the last issue ICv2 also identifies the manga and anime launches it deems most likely to succeed.
As usual ICv2 also provides market overviews for both anime and manga and list the best-selling properties in each category (the Top 50 for manga and the Top 25 for anime). Here are the Top Ten Properties in each category:
ICv2 Top Ten Manga Properties
1. Naruto
2. Fruits Basket
3. Kingdom Hearts
4. Full Metal Alchemist
5. Loveless
6. Death Note
7. Bleach
8. Tsubasa
9. Absolute Boyfriend
10. Negima
ICv2 Top Ten Anime Properties
1. Final Fantasy VII: Advent Children
2. Howl's Moving Castle
3. Dragon Ball Z Movie #12: Fusion Reborn
4. Voltron
5. Full Metal Alchemist
6. Naruto
7. KARAS
8. Samurai 7
9. Inuyasha
10. Princess Mononoke
For information on how to obtain your copy of the ICv2 Retailers Guide to Anime/Manga #16, with all the special feature articles, the complete Top Properties lists, and much more, see 'ICv2 Releases Guide to Anime/Manga #16.'