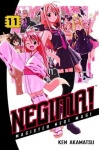 An ICv2 Release. ICv2 has kicked off a gigantic promotion for retailers that subscribe to the free daily ICv2 e-mail! Each retailer from the U.S. and Canada that subscribes to the ICv2 e-mail newsletter between November 1st and November 30th will be entered into a drawing with three big prizes, each valued at over $1,000 retail -- one for stores that carry comics and graphic novels, one for game stores, and one for stores that stock anime merchandise. Here are the three big prizes:
Over $1000 worth of Graphic Novels
Over the past few years, Del Rey has grown to be one of the most important manga publishers in North America. Our graphic novel prize from Del Rey is two to three copies each of eight of its most popular manga series, including Negima, xxxHolic, and Tsubasa. 100 books in all, worth $1,095 retail! For more information, see 'Retailers--Free Del Rey Manga!'


Over $1000 Worth of Magic: The Gathering Cards and Sleeves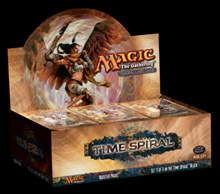 Magic: The Gathering is the theme of our prize for game stores: Wizards of the Coast's latest Magic release, eight boxes of Magic: The Gathering Time Spiral Booster Packs, worth $1062 at retail. For more information, see 'Retailers--Free Magic the Gathering: Time Spiral!'


Over $1000 worth of Anime Figures from Southern Island
Collectible figures based on anime properties are in big demand from fans, and this prize from Southern Island includes figures based on three of the hottest properties, worth over $1050 retail. These hot figures are in three different formats, showing the breadth of collectibles available: Fruits Basket Maquettes/Statues, Samurai 7 Trading Figures, and Fullmetal Alchemist Action Figures. For more information, see 'Retailers--Free Southern Island Anime Figures!'
Each new retailer subscriber from the U.S. or Canada will be entered into the drawings, and will be eligible to win in any of the categories selected for the store. Only one prize per customer, however, so if your name comes up twice, you'll only win in the first category drawn.
To subscribe to the ICv2 daily e-mail, click here.