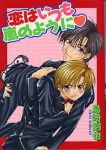 The sixth annual Yaoi-Con held last weekend near San Francisco produced an explosion of titles and new licenses that is simply unprecedented in the history of yaoi (boy's love comics created primarily by females for a female audience) manga in America. Digital Manga announced 13 titles for its yaoi-only June imprint including: Love Recipe (by Hiriki Higashizato),In the Walnut (by Toko Kawai), Picnic (Yugi Yamada), Othello (by Toui Hasami, not to be confused with Del Rey's Othello), Sweet Whisper (by Hyouta Fujiyama), Ordinary Crush (by Hyouta Fujiyama),Can't Win With You (by Yukine Honami and Satosume Takaguchi),World's End (by Eiki Eiki), Words of Devotion (by Keiko Konno), Nakimushi na Little (by Keiko Kinoshita), Lover's Flat (by Hyouta Fujiyama) , Invisible Boy (by Hotaru Odagiri), and Ai no Kusabi ( a series of novels by Reiko Yoshihara, the rest are all manga). DMP also announced it was working on a series of OJEL (original Japanese English language) yaoi manga releases, which would be fashioned by Japanese creators for the American market where they would be published first, before being released in Japan.
At Yaoi-Con Digital Manga also unveiled its 801 Media imprint, which will publish more explicit yaoi titles (just as Tokyopop's Blu imprint does). 801 Media announced seven titles for 2007 including the highly anticipated Love is Like a Hurricane, plus Affair, Bondz (by Toko Kawai), The First Case is Civil Law (by Fumi Yoshinaga), My Paranoid Next Door Neighbor, and Sky Over My Spectacles.
Dramaqueen announced three new yaoi properties at the show: Missing Road (by Sakurai Shushushu), Cage of Thorns (by Sonoko Sakuragawa), and Angel or Devil? (by Uzuki Jun). Yaoi Press, which is about to launch a collection of the online yaoi comic strip Zesty (see 'Yaoi Press Launches YA Line'), has licensed a number of Italian yaoi titles and plans on publishing 15 books in 2007. Meanwhile Central Park Media is set on getting its groundbreaking 'Be Beautiful' imprint into high gear and releasing at least one volume per month during 2007 and Broccoli Books is seriously contemplating the launch of its own yaoi imprint.
So will this prove to be another case of publishers sensing a growing market and then flooding it with too many releases? Maybe not -- Kuo-Yu Liang of Diamond Book Distributors told ICv2 that right now the market is eagerly embracing all yaoi releases, and while a lot of series were announced at Yaoi-Con, DMP and the other publishers still have fairly conservative release schedules at least in terms of the number of new books per month. Still, while all this variety will be great for consumers, at some point the publishers could face lower per-title sales if the growth in the number of releases outpaces the growth of the market.
But another more basic problem could stall the growth of yaoi in the U.S. As more publishers release hardcore explicit yaoi titles as Tokyopop and DMP are doing under their Blu and 801 Media imprints, censorship is like a dark cloud looming on the horizon. There is a reason that Tokyopop and DMP have created these imprints, which are not, at least at this time, even accessible from the parent company's Website. Already some major chains have balked at carrying some of the 18+ rated titles even though they are shrink-wrapped, and while hardcore fans are clamoring for more explicit releases, supplying that market poses definite risks for both publishers and retailers.