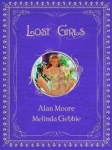 Top Shelf has amicably settled a potential dispute with the Great Ormond Street Hospital for Children, the holder of the copyright for J.M. Barrie's Peter Pan, over the publication of Alan Moore and Melinda Gebbie's Lost Girls, which includes an adult version of the character of 'Wendy' from Barrie's classic fantasy tale. The settlement avoids the issue of whether or not Lost Girls represents an infringement by withholding distribution of Lost Girls in the U.K. and European Union until January 1, 2008 after the expiration the Great Ormond Street Hospital's copyright. Top Shelf is gearing up for a major European launch of the book commencing in January 2008.
Meanwhile Moore and Gebbie attended a signing at the University of London on October 12th where an audience of more than 1,000 was assembled. While a few members of the audience had managed to obtain copies of Lost Girls before distribution was stopped, most in attendance brought (or purchased from Blackwell's) copies of other graphic novels written by Moore.
Currently Top Shelf has Lost Girls, Craig Thompson's Blankets, and a new hardcover edition of From Hell (by Alan Moore and Eddie Campbell) in print at the same time, which represents a considerable investment from a relatively small publishing house, especially one that only a few years ago absorbed a huge hit from the bankruptcy of book distributor LPC (see 'Publishers React to LPC Bankruptcy'). Retailers may want to check stock on these titles and reorder now to ensure having them for the upcoming holiday season.