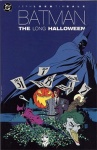 Next April Jeph Loeb and Tim Sale's Batman: The Long Halloween 13-issue mini-series from 1996-1997 will get the deluxe hardcover 'Absolute' treatment in DC Comics' Absolute Batman: The Long Halloween ($75). The Long Halloween, along with Batman: Year One, and Batman: The Man Who Falls, provided a good part of the inspiration for the highly successful Batman Begins movie.
The highly successful The Long Halloween, which won the CBG Fan Award as best limited series in 1997, spawned two sequel series (also written by Jeph Loeb and illustrated by Tim Sale), Batman: Dark Victory and Catwoman: When in Rome.
DC has previously published The Long Halloween in both trade paperback and hardcover editions. The larger format slip-cased Absolute Edition will include more than 30 pages of extra features.