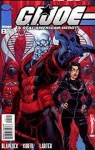 Image Comics has announced that in spite of overprinting, G.I. Joe # 2 has sold out. The first issue in Image's new G.I. Joe series, which was released in September, sold out despite a 33% overprint (see 'Image Goes Back to Press With G.I. Joe #1'). Image went back to press on G.I. Joe #1 because demand was immediate and overwhelming. G.I. Joe #2 was released in October and has taken quite a bit more time to burn through the overprint. Nevertheless demand has been steady and Image is directing retailers to the upcoming G.I. Joe M.I.A. compilation, which includes both issues #1 and #2 in a single, double-sized one-shot with no ads. G.I. Joe M.I.A. is scheduled to ship the week of February 6, 2002.
The success of the revival of G.I. Joe, which was a stellar performer for Marvel back in the 1980s, has encouraged Image to resuscitate another Marvel title from the Reagan decade, The Micronauts (see 'Devil's Due Gets Rights to Micronauts'), while Dreamwave Productions, which recently left the Image umbrella, has just announced that it has acquired the license to publish comics based on another Marvel 80s license, the Transformers (see 'Dreamwave Gets Transformers License'), and plans to put out its first issue in April.
The next issue of Image's G.I. Joe series (#3) hits the street on January 4, 2002, so there is still time for retailers to place advance reorders for this issue.