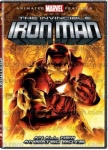 On January 23rd Marvel Studios and Lionsgate will release the Invincible Iron Man on DVD. The Invincible Iron Man is the third film in the extremely successful Marvel Animated Features direct-to-DVD series. The first two films in the series, Ultimate Avengers: The Movie and Ultimate Avengers 2: Rise of the Panther, have sold a combined total of over 1.5 million units.
The success of the Marvel Animated Features, which can follow comic book storylines much more closely and include more realistic action and violence than animated TV series destined for children's viewing blocks, has already spawned a similar effort from DC Comics (see 'DC's Direct-to-Video Animated DVDs')
Invincible Iron Man is an origin story that follows billionaire industrialist Tony Stark as he uncovers a buried city in China and accidentally awakens a powerful evil force that only his armored alter ego Iron Man can defeat.
The Invincible Iron Man DVD (MSRP $19.98) features a number of extra features including 'Origin of Iron Man' and 'The Hall of Iron Man Armor' featurettes plus an alternate opening and a preview of the next Marvel Animated Feature, Dr. Strange.