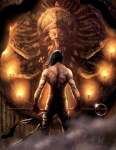 Who says family ties aren't important? Virgin Comics announced a two-way collaboration with actor Nicholas Cage and his son Weston on a pair of comic book thriller projects. Virgin Comics will publish Enigma, a voodoo-themed New Orleans crime drama written by Weston Cage, as a five part mini-series starting in March 2007 followed by a graphic novel collection later in the year. Meanwhile Nicholas Cage has agreed to star in a movie adaptation of The Sadhu comic, which Virgin Comics co-founder Deepak Chopra is adapting from the comic book series of the same name written by his son, Gotham Chopra.
The Sadhu debuted last summer from Virgin Comics. Cage will star as James Jenson, an English soldier who travels to India during colonial times and becomes disillusioned by the corruption of the empire before being recognized by the natives as a spiritual warrior.
Nicholas Cage, a noted comic book aficionado, stars in the upcoming Marvel-based Ghost Rider film directed by Mark Steven Johnson.