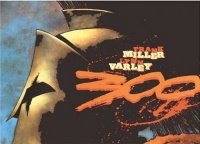 While the film version of Frank Miller's 300 won't debut in theaters until February 5th, sales of the graphic novel have been soaring in bookstores.
Dark Horse Vice President of Business Development Michael Martens told ICv2 that after the trailer for the film hit theaters a few weeks ago, Dark Horse received orders for 40,000 copies of Miller's graphic novel. Buyers are well aware of the sales potential of Miller's books after the signal success of his Sin City graphic novels in the wake of the release of the Sin City film in 2005.
Like the Sin City movie, which was co-directed by Frank Miller and Robert Rodriguez, director Zack Snyder's 300 closely approximates the visual style of Miller's original graphics (see '300 Movie Nears Completion') and the film should attract a wide audience to Miller's powerful historical graphic novel. Sales in the bookstores are already brisk with the book firmly ensconced in the manga-heavy top 20 of the BookScan list of graphic novels sold in bookstores.
Having had some trouble in 2005 meeting the unprecedented demand for Miller's Sin City books, Dark Horse has been very aggressive in scheduling additional print runs for the 300 graphic novel. A tenth printing that will provide an additional 40,000 copies is set to arrive in late November and an eleventh printing is slated for January/February. Dark Horse has already sold over 88,000 copies of Miller's 300 since 1999 and by this time next year the 300 graphic novel, which won an unprecedented five Eisners, might just be the best-selling single volume historical graphic 'novel' ever in the North American market (Larry Gonick's 11 Cartoon History volumes have collectively sold over 750,000 copies).
Dark Horse also plans to release 300: The Art of the Film ($24.95), which contains 200 pages of production photos and concept art, in January (see 'Dark Horse Plans 300 Art Book').