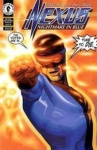 Comic book artist extraordinaire Steve 'The Dude' Rude has announced the formation of Rude Dude Productions LLC., a new independent comic book company that plans on publishing an annual slate of full color comic books that will include four issues of Nexus, four issues of The Moth (a new superhero book by Rude and Gary Martin), and an anthology title, Amazing Dude Tales.
Rude told ICv2 that he is bent on creating the kind of comic book publishing company that he always wanted to work for -- much like Mainline Comics, the short-lived independent company that Joe Simon and Jack Kirby founded in 1953--and that he looks forward to working with a group of handpicked creators. Rude plans to have the first issue of the new Nexus series out in July of 2007 in time for the San Diego Comic-Con.
Chief among Rude's collaborators at Rude Dude Productions are writer Mike Baron, who co-created Nexus (along with Rude) in the 1980s for Capital Comics, and Gary Martin, who will ink all the Rude Dude Productions comics and is the co-creator of The Moth, which Rude describes as a traditional superhero comic book with a strong Silver Age Jack Kirby vibe.
Mike Baron characterized the new Nexus series he is writing for Rude Dude as 'the most intense thing I have ever written' and promised far-ranging repercussions for Horatio Hellpop, the cosmic avenger driven by dreams of holocaust-like mass murder.
In addition to the quarterly Nexus comic book, Baron is also writing a second Nexus saga, which will appear in 8-page segments in the Amazing Dude Tales anthology and will feature all painted art by Rude (the quarterly Nexus comic will have traditional penciled art).
The Amazing Dude Tales anthology book will feature art by Rude and number of continuing stories in a wide variety of genres penned by a diverse and talented group of writers. The anthology will include a romance saga (written by Heidi MacDonald of 'The Beat'); the previously mentioned painted Nexus serial; Origami, another Baron and Rude collaboration; The Silencer, written by Gary Martin; as well as a horror comic penned by best-selling horror/science fiction scribe F. Paul Wilson (The Keep, Repairman Jack).