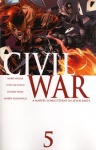 The fifth issue of Marvel's mega-hit Civil War miniseries was the best-selling comic to comic stores in November, narrowly topping the sales on issue #4. The increase made it a rarity among top titles in November; only five titles in the top 25 were up. Eighteen titles were down, including all five issues of 52 (November included five shipping weeks).
Marvel had a fairly typical 15 of the top 25 titles, with DC holding the other 10 slots.
The extra week did pull up sales at the bottom of the top 300. The lowest-selling titles in November were significantly higher than the bottom range in October.
On the graphic novel list, the latest volume of the red-hot Brian K. Vaughan's Y the Last Man topped 10,000 copies, a very strong sell-in for the ninth collection of the series. And Devil's Due had a very strong launch for its Family Guy graphic novels, with around 8600 sold in to comic stores during November.
Here are ICv2's estimates of the sales by Diamond Comic Distributors to comic stores on the top 25 comic titles in November:
272,603 Civil War #5
140,939 JLA #3
136,504 New Avengers #25
118,833 Amazing Spider-Man #536
118,285 Astonishing X-Men #18
104,614 52 Week #26
104,265 52 Week #27
103,529 52 Week #28
102,727 Punisher War Journal #1
102,699 52 Week #29
102,576 52 Week #30
100,869 Civil War: Front Line #8
99,991 Wolverine #48
94,349 Batman #658
91,585 Wolverine Origins #8
90,651 Batman #659
88,584 Uncanny X-Men #480
84,169 Incredible Hulk #100
84,008 Superman/Batman #30
80,102 X-Men #193
79,885 Captain America #24
79,102 Onslaught Reborn #1
77,121 Ultimate Spider-Man #102
76,998 Wonder Woman #3
76,800 Iron Man #13
We are estimating actual sales by Diamond U.S. (primarily to North American comic stores), using Diamond's published sales indexes and publisher sales data to estimate a sales number for
Batman
(the anchor title Diamond uses in its calculations), and using that number and the indexes to estimate Diamond's sales on the remaining titles.
We can check the accuracy of our numbers by comparing the Batman number that we calculate using multiple data points; our numbers for Batman are within 1/10 of 1% of each other, ensuring a high degree of accuracy.


For an analysis of the dollar trends in November, see 'Comic Dollars Surge.'


For our estimates of actual orders to Diamond U.S. from comic specialty stores on comic books scheduled to ship during November, see 'Top 300 Comics Actual--November 2006.'


For our estimates of actual orders to Diamond U.S. from comic specialty stores on graphic novels scheduled to ship during November, see 'Top 100 Graphic Novels Actual--November 2006.'


For our estimates of actual orders to Diamond U.S. from comic specialty stores on comic books scheduled to ship during October, see 'Top 300 Comics Actual--October 2006.'


For our estimates of actual orders to Diamond U.S. from comic specialty stores on graphic novels scheduled to ship during October, see 'Top 100 Graphic Novels Actual--October 2006.'


For our index to our reports on the top comic and graphic novel preorders for January 2000 through November 2006, see 'ICv2's Top 300 Comics and Top 100 GNs Index.'