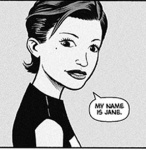 DC Comics has announced that it will make The P.L.A.I.N. Janes, the first title from its new Minx line of graphic novels for teenage girls, returnable for qualifying retailers ordering through Diamond Comic Distributors. The book, which will ship to retailers for sale on May 16th, will be solicited in the February issue of Diamond's Previews. DC is tying returnability to the number of copies ordered and published a chart indicating how many copies a retailer will have to order (based on their DC discount) to gain returnability on the title:
DC Comics Retailer Discount Minimum Qualifying order

35% 2 copies
40% 2 copies
50% 4 copies
52.50% 4 copies
55% 6 copies
56% 10 copies
57% 15 copies
Thus a retailer with a 50% discount from DC must order at least four copies of The P.L.A.I.N. Janes to qualify for full returnability. The offer is valid for retailers in the U.S., Canada, and the U.K. -- all orders must be placed by the Final Order Cutoff date of March 8th. DC will announce the return window for the title at a later date.
DC's V.P. Sales Bob Wayne explained the reasoning behind the decision to make the first Minx title returnable: 'We have a great deal of confidence in THE P.L.A.I.N. Janes as a title that can sell well in all channels.' 'All channels' naturally includes the direct market and DC has obviously been paying attention to indications that in the past few years comic retailers have become much more adept at selling to women. The second best-selling graphic novel on Diamond's Top100 Graphic Novels list for December was Tokyopop's shojo (girls') manga Fruits Basket Vol. 15, a book that targets the same audience DC is attempting to appeal to with its Minx releases (see 'DC SVP Karen Berger on Minx').
YA novelist Cecil Castellucci (Boy Proof, The Queen of Cool) wrote The P.L.A.I.N. Janes, the story of a teenage girl who transfers to a suburban school and forges a group of outcasts into an organization 'People Loving Art in Neighborhoods' that attempts to make a difference in the community.