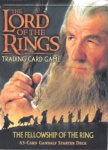 Decipher Games Inc. has announced that the Premiere Set Starter Decks for its Lord of the Rings collectible card game have sold out. The company is going back to press and the second printing should be available to retailers by late February. The 'first printing' icon, designated by the number one, will be removed from the design of the set to distinguish it as a subsequent printing. Though originally printed in large quantities, the Premiere Set Starter Decks have sold out in just two months. The first film in the LOTR trilogy, The Fellowship of the Ring, has topped the box office for the past month and is now an unqualified hit (see 'LOTR Tops Box Office'). Retailers responding to ICv2's survey of holiday sales have indicated that LOTR merchandise (including the Decipher CCG) has being selling well (see 'Holiday Sales Strong'). The LOTR CCG holds the #1 and #8 slots in our Top 10 Cool Games list for November (see 'Top 10 Games').
The quick sellout of the Premiere Set Starter Decks has accelerated Decipher's plans for the release of the first expansion set for the LOTR CCG, The Mines of Moria.

Originally slated for March, The Mines of Moria will now be released in February.

Booster packs for The Mines of Moria will be released in March as originally planned.