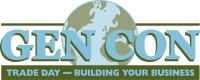 Gen Con LLC has announced that it will launch Gen Con Trade Day, a new event dedicated to building the business of games, in conjunction with Gen Con Indy this August.
Gen Con CEO Peter Adkison explained his goals in launching the event. 'We want to make Gen Con as great an environment for building the business of games as it is for the fans,' he said. 'That means providing a forum for special programs and events that serve the businesspeople at the show, dedicated time on the exhibit floor, and exclusive spaces in which to do business.'
Gen Con Trade Day will serve several segments of the games business. For retailers, Gen Con Trade Day will include special programming and events on Wednesday, August 15th, exclusive access to the floor during a special trade-only period on Thursday morning when retailer premiums will be distributed, and a retailer-only area where business can be conducted throughout the show.
Gen Con Trade Day will also help game companies connect with distributors and retailers, reach the press, and find licensees and licensors.
The event will also support the librarians and educators that are spearheading the increasing use of games in libraries and schools.
Gen Con Trade Day registration will open Monday, March 18th. It will be open to chain buyers, retailers with an active storefront, game manufacturers, and librarians and educators active in their profession.
Adkison noted the base on which Gen Con Trade is being built. 'Gen Con already attracts more people in the business of games than any other show,' he said. 'And now we're going to build the infrastructure that will make it easier for retailers, distributors, game companies, licensing professionals, librarians, and educators to learn and conduct business at the largest consumer gaming convention in North America.'