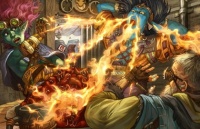 Tenacious Games has announced the long-awaited release of Seed: Children of the Lingamorph, the latest set for the Spoils Tournament Card Game. Seed: Children of the Lingamorph, which is due out on December 11th, is the first release in a 3-part standalone expansion. Seed: CotL is actually a prequel to Spoils First Edition Parts 1 & 2. The new release takes place a hundred and fifty years before the events depicted in the First Edition prior to the founding of voidal science and the rise of micromajigs.
The Seed: CotL release will be available in 13-card Booster Packs (MSRP $4), 53-card Pre-constructed Decks ($8), and 69-card Competition Packs ($13).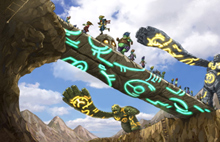 Tenacious Games is conducting Pre-Release events across the U.S. for the weekend of November 24th and 25th. Ninety-five stores who have supported Spoils with organized play have been given the opportunity to hold pre-release events. Tenacious Games is flying in product from China to support the pre-release events and retailers who are hosting the events will have the opportunity to purchase a limited amount of additional product. Every retailer who orders enough product to hold a 16-player event will receive a Pre-Release prize and promo kit shipped directly from Tenacious Games (the pre-release product will be shipped via distributors). The entire pre-release program for Seed: CotL was designed in consultation with retailers, in particular with Grasshopper Comics' John Riley, who pens the popular 'Sharpening the Sword' column for ICv2.