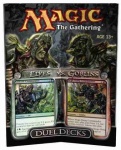 Wizards of the Coast is making a concentrated effort to reach out to more casual gamers for Magic: The Gathering through the release of its first deck product and a casual gamer event program, both with a tribal war theme.
The Tribal Wars Open Play Promotion will launch December 1st and run until January 3rd. Kits will be available to the first 1,000 retailers that request them, either through WotC's direct sales program or from Merchant Relations. Each kit will include eight classic tribal promo cards that match the tribal theme of the promotion, and 30 Tribal Tracking Sheets for the players to fill out after each match win.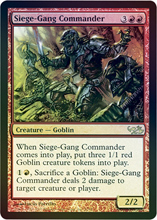 The promo cards in the Tribal Wars kit are intended to be used to reward current players that bring new players to the store. According to WotC Senior Brand Manager Elaine Chase, 'The promos you receive in any individual kit will be random, so not all kits will be the same cards.'
Retailers can just hang up the Tribal Tracking Sheets and let players post their own wins, there's no recordkeeping or reporting involved. Tracking Sheets will also encourage players to record their results and share their decklists on the WotC Website.
Chase explained the casual nature of the play. 'For players, the big appeal is that you can play anytime,' she said. 'There are no rounds, no keeping track of losses, no net-decks, no stress; just hang out with a bunch of Magic fans playing new decks you built.'
Player's decks will have to include one of Lorwyn's eight tribes from Standard legal sets. At least 1/3 of the deck must have the creature type from the tribe the player chooses. Players will also be able to download flags, posters, insignia and other materials from the WotC site to show their tribe affiliations.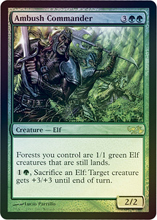 Tribal Wars Open Play can be incorporated into Friday Night Magic for those stores that participate in that program. 'Retailers are free to make their Friday Night Magic events run as tribal wars as long as they communicate that deck construction rule to their players in advance of the event,' Chase told us. 'Regardless of your FNM format, players should be encouraged to play against each other with their tribal wars decks in between rounds of FNM and any other time they are just hanging around.'
WotC is also releasing a special SKU, Elves vs. Goblins Duel Decks, that will serve as a 'launch pad idea for players to align with a tribe and join the battle that starts on December 1st,' according to Chase. Street date is November 16th, but the Duel Decks will probably hit mass a little later than that because of the time it takes those stores to re-do their sets.
The Duel Decks format is a first for WotC. 'The deck format has been very popular in casual circles, but never used officially by Wizards in stores,' Chase said.
For $19.99, purchasers will get two 60-card theme decks, one elf and one goblin. The set will also include two exclusive alternate art premium cards: Siege-Gang Commander (goblin) and Ambush.