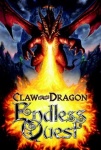 Mirrorstone Books, the YA publishing division of Wizards of the Coast (see 'WotC Seeks Old, New D&D Customers'), is reviving the Endless Quest series of interactive books, which TSR published in the 80s and 90s. Mirrorstone is making teaching and discussion guides available for the titles to enhance their usefulness as teaching tools.
Book 1, Claw of the Dragon (originally published in 1986) is being released this month; Book 2, Search for the Pegasus (originally published in 1985) is due in July.
Over 50 Endless Quest volumes were released by TSR.