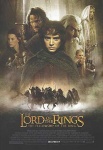 You'd think it was the lawyers, not the writers that had been on strike in Tinseltown given the flurry of lawsuits announced in the wake of the writers' strike, the latest of which was initiated by the Tolkien Trust, which filed a suit against New Line Cinema over payments from the Lord of the Rings trilogy alleging that 'New Line has not paid the plaintiffs even one penny of its contractual share of gross receipts despite the billions of dollars of gross revenue generated by these wildly successful motion pictures.' The lawsuit seeks $150 million in compensatory damages and even more importantly for pop culture retailers, the termination of any further rights that New Line might have to other Tolkien works, which would include the two films based on The Hobbit, which Peter Jackson (after the settlement of his lawsuit with New Line -- see 'Jackson to Produce Hobbit Films') is producing.
The Tolkien Trust, which is run by the author's elderly children (and Tolkien publisher HarperCollins), engages in a number of charitable activities including the Darfur Appeal, Save the Children, as well as medical research. According to the complaint the Tolkien Trust was entitled to 7.5% of the gross profits earned by the The Lord of the Rings films. Since the three LOTR films have earned over $6 billion worldwide, the Tolkien Trust's share is hardly chump change. The Trust's complaint mirrors earlier lawsuits filed by LOTR director Peter Jackson and producer Saul Zaentz against New Line charging the studio with a refusal to make records available for an independent audit.
The Trust claims that so far it has only received an upfront payment of $62,500. While 'creative accounting' is a Hollywood tradition, New Line would certainly appear to be in line for a special Oscar in that category for its ability to disguise revenues from the hugely successful LOTR trilogy.