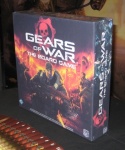 Fantasy Flight Games has acquired the rights to create a board game based on Gears of War, a third person shooter game developed by Epic Games and published by Microsoft Game Studios.
Released in late 2006, Gears of War, which sold over 3 million units in its first ten weeks on the market, was the best-selling video game of the year and was the second most played game on the Xbox Live network during 2007.
The game takes place on the planet Sera, where the human inhabitants are under massive attack from an underground swarm known as the Locust Horde. Players assume the roles of Marcus Fenix and his Delta Squad--combat-hardened soldiers who undertake a dangerous mission to deploy a "Lightmass" bomb deep in the tunnels used by the Locust Horde.
The Gears of War videogame was conceived as a trilogy and the second installment, Gears of War 2, is due out in November. Fantasy Flight plans to launch its Gears of War Board Game in the fall to take advantage of the massive push that will accompany the debut of the second Gears of War videogame.