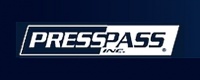 Press Pass Inc., which announced the 24 TCG only a little over a year ago (see "Press Pass Plans '24 TCG'"), is now out of the games business, at least for now, according to a spokesperson from the company. Edward Bolme, formerly the TCG product manager, is no longer with the company, and others with duties related to games have been re-assigned.
The company released two trading card games over the past few years. The Fullmetal Alchemist TCG, despite solid support and a strong license, was put to rest last year after declining sales in a very competitive TCG market (see "RIP 'FMA TCG'").
The 24 TCG was a casualty of the TV writers' strike. It was released just as the strike got underway, and when the 24 season was indefinitely postponed, the game lost the benefit of the surrounding attention to the property (see "Strike Shutting Down Shows").
Press Pass has one trading card entertainment property, and a number of sports card products in the racing, college basketball, and college football categories. It remains interested in the entertainment card business, and may expand its efforts there.
The elimination of the TCG operation did not have anything to do with the recent departure of long-time Press Pass stalwart Bob Bove, who remains an owner of the company.