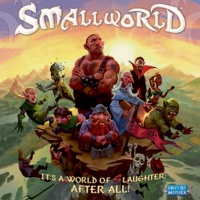 Days of Wonder has announced the late April/early May North American release of Small World, a light-hearted fantasy civilization game in which players vie for the conquest and control of a world that is simply too small to accommodate them all. The deluxe large format Small World board game (MSRP $50) will be available in Europe in early April.
Phillipe Keyaerts (Vinci) designed Small World as a game with simple rules that can be played by any family member, but which, while remaining light-hearted, can get as cutthroat as a croquet revenge match. The game is set in a world inhabited by 14 fantasy races (dwarves, lizards, orcs, amazons, wizards, giants, humans, etc) that use their troops to occupy territory and conquer adjacent lands. Players attempt to pick the right combination from the 14 races and 20 special powers to expand their own empires, but in one of the game's intriguing twists, players must also know when to push their own over-extended civilization into decline and ride a new one to victory.
Small World, which is designed for 2-5 players, features two double-sided game boards that accommodate four possible player configurations. Components include banners and tokens for 14 races, 20 Special Power badges, a variety of Troll Lairs, Mountains, Fortresses, Encampments, Holes-in-the-Ground, 2 Heroes and even a Dragon, along with Victory Coins, 6 Player Summary Sheets, a Reinforcement Die, and Rules Booklet.