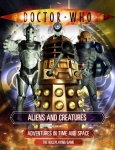 Cubicle 7 Entertainment recently announced its release schedule for December, with four products on the docket. Primary among them is an expansion set for the upcoming Doctor Who: Adventures in Time and Space Roleplaying Game, coming in October (see "Doctor Who: Adventures in Time and Space"), as well as releases for Necropolis 2350 and Starblazer Adventures, and a new edition of the Barbarians of Lemuria RPG.
Aliens and Creatures details the Doctor's adventures against the Cult of Skaro, Davros, the Weeping Angels, and the Hath in a boxed expansion set for the Doctor Who: Adventures in Time and Space Roleplaying Game. The set includes a 148-page rulebook, 32-page adventure book (both full-color), with a new scenario and scenario ideas, story point counters, and alien record cards. MSRP is $39.99.
The Necropolis 2351-55 Update expands on the Necropolis 2350 core rules by giving new rules and information on the battle between the forces of the Third Reformation Church and the Rephaim. The 112-page, softcover, black-and-white book contains rules for new litanies, church vehicles, Sacri Ordines, necromantic armor, an overview of the war from 2351 to 2355, and more. MSRP is $24.99.
Legends of Anglerre details two additional settings for Starblazer Adventures that puts space jockeys squarely in the midst of dragons and sorcery. Anglerre is the world from the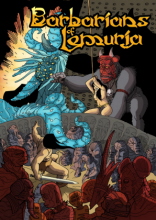 Starblazer
comics, while the Hither Kingdoms are a completely new setting. Also included are new rules for magic, epic abilities, combo maneuvers, and two introductory adventures. MSRP on the 352-page hardcover black-and-white volume is $49.99
Finally, Barbarians of Lemuria (Legendary Edition) is an update of the sword-and-sorcery RPG inspired by the legends of Conan, Brak, Thongor, and Elric. The 111-page black-and-white book has an MSRP of $24.99.