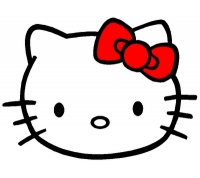 Upper Deck has obtained a multi-year license from Sanrio Global Consumer Products to produce a Hello Kitty collectible game, beginning in 2010. The game will include collectible miniatures and stickers, and be marketed as a trading card game. The first release will hit the market in March 2010. Three products are planned for 2010.
2009 is the 35th anniversary of the venerable Hello Kitty brand, which is being celebrated with a variety of special products and events.
This marks the second new brand Upper Deck has licensed in October. Earlier this month, the company announced that it had signed a multi-year license to produce Thomas & Friends trading cards, also beginning in 2010.