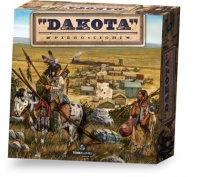 NG International is demo-ing two new games at Essen planned for release in 2010, Dakota and Funny Little Games in Whitechapel. Nexus games are generally sold through Fantasy Flight Games in North America.
Dakota, designed by Piero Cioni, is a 60- to 90-minute game for three to five players ages 10 and up. It's inspired by the conquest of the American West, and employs linear mechanics. Players take control of a group of settlers or a tribe of natives and then cooperate and compete with the other players for natural resources, which have different values for the different types of players. The mechanic allows for unequal numbers of settlers and native players. It will be the first game published by NG International under its recently acquired Tenki Games brand.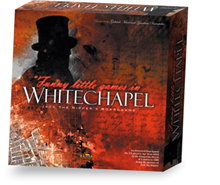 Funny Little Games in Whitechapel
(tentative name), designed by Gianluca Santo Pietro and Gabriele Mari, is a 90- to 150-minute game for two to six players ages 14 and up.
It's a crime and investigation game centered on the crimes and pursuit of Jack the Ripper.
One player controls Jack, and others are detectives who try to track him down.
It utilizes "very intense" artwork and graphics.