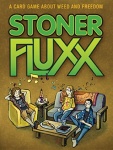 Looney Labs has announced Fully Baked Ideas, a new imprint for adult games. The first game under the new imprint will be a new edition of Stoner Fluxx, which streets November 13.
Looney will use Fully Baked for games intended for mature audiences, keeping those games separate from its family games, which will continue to be published under the Looney Labs imprint. All marketing, including store locators and the Website, will be kept separate.
Stoner Fluxx has been out of print for four years. The new edition will feature full color, sixteen new cards, and new packaging. The publisher plans to donate 5% of revenues from the game to groups that work to end marijuana prohibition.
The next game under the Fully Baked imprint will be a Drinking version of Fluxx.