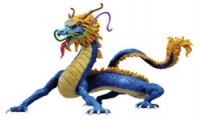 Large monsters are about to join the Arcane Legions collectible miniatures game. Two new limited quantity expansions will be releasing early in 2010, featuring monstrous creatures for the Han Empire and the Egyptian Imperium.
In March, the Arcane Legions: Dragons of the Far East expansion is scheduled to ship. This set includes two large minion miniatures: the Luck Dragon and the Forest Dragon, along with four unit cards and two formation bases. Stock number WLS018. MSRP $34.99.
April brings Arcane Legions: Servants of Thebes, which includes two undead sphinx miniatures: the Tomb Guardian of Anubis and the Tomb Guardian of Osiris, and the required unit cards and formation bases. Stock number WLS050. MSRP $34.99.
Unlike other models, which can be mixed and matched to create player-designed units, each of the larger-size miniatures in these expansions uses an entire formation base. No new rules are required to play with these expansions.
Arcane Legions was launched in late 2009 by Wells Expeditions (see "Preview of 'Arcane Legions'").