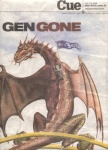 Game fans came out in force for the final Milwaukee appearance of GenCon, prompting some industry attendees to describe it as 'the biggest Thursday in the history of the show.' Show organizers told us that first day attendance was 'up slightly' despite zero marketing, perhaps due to a last chance mentality among Milwaukee fans unlikely to travel to Indianapolis for next year's show. The Milwaukee Journal Sentinel, which featured the departure of the show on the front page of its Sunday entertainment section last weekend, may have helped to bring out the increased numbers on Thursday. Four-day attendance has been hovering around 25,000 for the last several years, which has maxed out both the maximum number of people in the convention center and filled every hotel room in the Milwaukee area. Those limitations are the reason no marketing has been done for several years, and why the show is moving to Indianapolis for a four-year run next year.
Henry Mobley, Director of Operations for GenCon, LLC (the company Peter Adkison formed to run the show after purchasing it from Wizards of the Coast, see 'Wizards of the Coast Sells GenCon to Peter Adkison') told us that floor space for the show is going from 180,000 square feet in Milwaukee to 300,000 square feet next year, a 2/3 increase. The increased space will allow for more booths, including increased space for computer games, and will accommodate larger crowds. With the additional convention space and more hotel rooms, a marketing campaign is expected to increase show attendance for 2003. Asked whether the show would stay in Indianapolis at the end of its four-year commitment, Mobley said that would be evaluated after the first year or two in the new venue.
WizKids was again the booth with the most buzz at the show, but Wizards of the Coast, Score, Upper Deck, and Decipher all had their own CCG hits running as well.

RPG and accessory booths also looked busy, making for an all-round positive event in this good year for game sales.