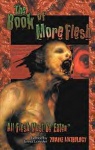 Eden Studios has announced the October release of The Book of More Flesh, an anthology of All Flesh Must Be Eaten zombie fiction edited by James Lowder.

It will be a 320-page trade paperback at $16.95, containing over twenty stories, many by notable authors, including David Dvorkin, J. Robert King, Tom Piccirilli, Scott Edelman, Scott Nicholson, Steve Eller and more.

This is the second book of its kind published by Eden; the first was The Book of All Flesh.

The All Flesh Must Be Eaten property is headed for the silver screen next year (see 'Walking with the Dead -- Fall 2003'), and the ever-popular zombie category makes this a line with potential.