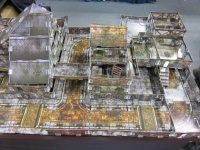 Wyrd Miniatures, publishers of the Malifaux miniatures game, revealed its new TerraClips modular terrain system at last week's Gen Con.
Manufactured from sturdy cardstock, Terraclips is a modular terrain building system. The pieces punch out from 11-inch by 15-inch cardsheets and can be assembled in any configuration. All pieces feature fully-rendered artwork, including building interiors and exteriors. The cardstock pieces are held together with transparent plastic clips, and can be used to construct multi-level 3D terrain setups that offer easy access to building interiors during play.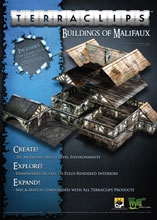 Three
Terraclips
sets were on display at Gen Con:
Buildings of Malifaux,
Sewers of Malifaux,
and
Streets of Malifaux.
The artwork in these sets is intended to represent the world setting for the
Malifaux
miniatures game, but the terrain components are designed to be compatible with any miniatures or role-playing game.
All three sets have a suggested retail price of $49. Additional packs of plastic clips will be available at a suggested retail price of $18. Wyrd Miniatures expects to begin shipping within the next two months.