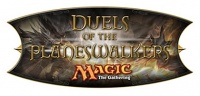 Wizards of the Coast has launched Magic: The Gathering—Duels of the Planeswalkers for the PlayStation 3 system. The game had previously been available on Xbox and PC; it has been one of the most downloaded games on those platforms.
Consumers that buy the game for PS3 will receive a special foil art Planesalkers promo card from WotC.
Duels of the Planeswalkers has been associated with a revival of the Magic: The Gathering TCG, bringing in new players and reactivating lapsed ones (see "Magic on Xbox Bringing in Players").