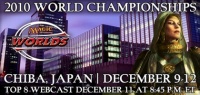 Wizards of the Coast will host the Magic: The Gathering World Championships in Chiba, Japan this weekend. Players from over 50 countries will compete for the title.
Other activities will include meet and greets with Magic creator Richard Garvield, Champion Challenge, Pro Tour Hall of Fame inductions, and the 2010 Magic Online Championship.
WotC will stream a live webcast of the Top 8 on Saturday, December 11th at 8:45 p.m. ET.