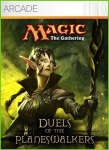 U.K.-based video game developer Stainless Games has announced that its Magic: The Gathering—Duels of the Planeswalkers game, which was developed by Stainless and published by Wizards of the Coast, has reached sales of 500,000. First launched for the Xbox Live Arcade (XBLA) in June of 2009, and on Steam in 2010, the Planeswalkers game was released in a Playstation Network version in November.
The success of the
MTG: Duels of the Planeswalkers
game has been good news for hobby retailers. Not only does it add to the general "heat" of the property, it was also an effective tool for getting video gamers into hobby stores. Nearly 40% of those who requested the free "Garruk Wildspeaker Planeswalker" card went on to redeem the accompanying voucher for a sample deck at a store (see "
Magic on Xbox Bringing in Players
").