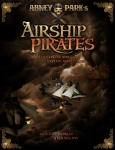 Cubicle 7 Entertainment will release Abney Park's Airship Pirates in August. Based on the musical work of the Seattle-based band "Abney Park," this new RPG features steampunk themes and Victorian-era style. The Core Rulebook will be the first product, with an introductory adventure, Ruined Empires, planned to release at the same time.
Set in a future world with a severely disrupted timeline, Airship Pirates places players in command of their own steam-powered airships. There they will seek not only to pillage the skies, but to plunder history, possibly causing even greater disruption to the past. Meanwhile, the world below struggles in Victorian-style squalor under an oppressive government that maintains control through clockwork policemen.
The Abney Park's Airship Pirates RPG Core Rulebook will be a 300-page hardcover volume with full color interior art. Designed by Peter Cakebread and Ken Walton. The suggested retail price will be $49.99.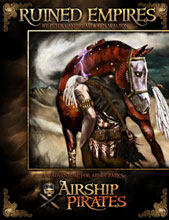 The first adventure is scheduled to release simultaneously with the
Core Rulebook.
Entitled
Ruined Empires
, this adventure is designed to provide new players with their first experience in the game setting. The storyline features a lost treasure map, rival treasurer hunters, the Imperial Air Navy, and betrayal on-board the pirate airship. 42 page softcover with black and white interior. Written by the game designers, Peter Cakebread and Ken Walton. Suggested retail price: $14.99.