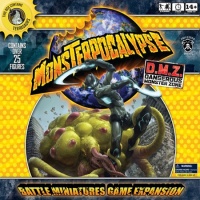 In a follow-up to the two-player starter released last October, Privateer Press will be releasing Monsterpocalypse: Dangerous Monster Zone in the summer 2011 and in doing so will move the Monsterpocalypse battle miniatures game to a non-collectible format.
The new non-random format allows collectors and players to fill out their favorite factions easily, as each box will be clearly marked with one of six faction sets of classic monsters, units, and buildings from Monsterpocalypse Series 2: I Chomp New York and Series 3: All Your Base.
Contents of each box will include over 25 figures: three monsters (alpha form and hyper form of each), including one morpher type monster; 16 unit figures; two faction-specific installations; one building and one morpher rules card. The pre-set collectors box will sell for $39.99.