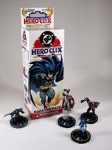 WizKids has released sales figures on its DC HeroClix: Hypertime game, which was released September 18.

According to the announcement, more than one million starter sets and booster packs have been sold since release.

WizKids founder Jordan Weisman said of the numbers, 'We are very pleased with how the DC game is selling.'

This compares to 600,000 starter sets and booster packs of WizKids' Mechwarrior:

Dark Age game sold in its first two weeks of release.