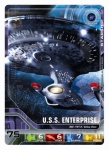 Bandai has revealed more details about its upcoming
Star Trek Deck Building Game
, scheduled to release later this year (see "
Star Trek Deck Building Game
").
The game places players in the role of starship captains, starting with a standard crew and basic systems. During the game, players can improve their crew and vessel as they negotiate and battle alien races from the Star Trek universe. The Star Trek Deck Building Game will feature characters and images from the Star Trek: The Next Generation TV series and movies.
Bandai had preview copies of the new deckbuiliding game for demos at Origins, and plans to do so again at Gen Con, Anime Expo, and Comicon.
Three different play modes are included in the game, offering a free-for-all, team play, or co-op scenarios. There will be 300 cards and five 20-sided dice. The suggested retail price will be $39.99.