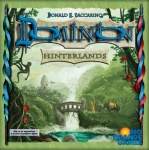 Come October, Rio Grande Games will be releasing the sixth boxed expansion set for the category-leading Dominion deck-building game. Titled Hinterlands, this new expansion will feature 26 new cards for the game.
The new Kingdom cards include 20 new actions, 3 treasures, 3 victory cards, and 3 reactions. The cards are united by a common theme: cards that allow a special action immediately when purchased or gained.
Hinterlands is not a stand-alone game, and requires a copy of Dominion or a stand-alone Dominion expansion, such as Intrigue. Hinterlands is compatible with all existing Dominion expansions.
This new cards-only expansion will have a suggested retail price of $39.95.