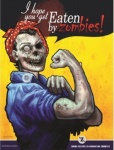 Seth Hiatt of Mayday Games has informed ICv2 that the entire first printing of the Eaten by Zombies Deck-Building Game was sold out even before the company had received the initial printing of 2,000 copies was received. A second printing is in the works and will be shipping to U.S. customers and distributors in December.
Mayday Games received $47,874 to finance the printing of the game via a listing on
Kickstarter.com
, which has become an increasing important way for independent game, book, and comic publishers to finance their endeavors. The sharp-looking
Eaten by Zombies
game, which features art by John Huerta, is the sort of project that is a natural for Kickstarter.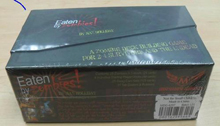 Eaten By Zombies
comes in a visually appropriate "ammo-style" box. Created and designed by Max Holliday, a zombie movie buff, who has not only included all sorts of wonderful elements reminiscent of
I Am Legend
and
The Walking Dead
, but also created a game that provides a unique zombie-themed twist on the typical mechanics of deck-building games.
Players start out as one of four characters, Bob (the office worker), June (the stay-at-home mom), Mary (the cheerleader), and Barney (the affable cop). Each of the four players has a unique set of starting cards. Each turn they can attempt to scavenge weapons and other valuable swag, but by doing so they expose themselves to potential zombie attacks. This ingenious game combines card drafting and hand management with survivalist tactics and enough twists and dirty tricks to keep even the keenest zombie/horror movie fan on edge.