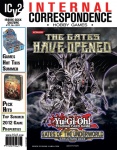 The hobby game market had a great summer, described as a "huge surge" by one distributor, according to a report in the recently released ICv2's
Internal Correspondence
#77. The growth is happening in stores new and old, and across most game categories.
Magic: The Gathering
continues to lead the collectible and over-all hobby game market, and despite big sales in the year ago period appears to be continuing to grow, with recent changes in organized play and the new expansion, Innistrad, both getting high marks.
Yu-Gi-Oh!, Pokemon
, and
HeroClix
(now including videogame properties) are also all firing on all cylinders in the hobby. Behind those,
World of Warcraft
and
Redakai
are stable, with
Naruto
showing some growth.
Board games continue to be what most of our sources mention first (along with
Magic
) as the source of strongest growth, with category leaders like
Settlers of Catan
and
Ticket to Ride
continuing to have upward trend lines. Other notable bright spots in the summer months were Mayfair's Martin Wallace line, WotC's
Wrath of Ashardalon
, and Hasbro's
Battleship Galaxies
.
Games Workshop, the leader in the non-collectible miniatures category, had a rough summer, with quality issues on its new
Finecast
resin line, spotty supply, and shorter solicitation cycles all affecting sales. Meanwhile, Privateer continued steps to shore up its backlist availability, and coupled with GW's problems, was picking up customers.
Paizo's
Pathfinder
, #1 in the roleplaying game category, continued to gain momentum, with sharp differences in the number of releases between It and WotC's category-defining
Dungeons and Dragons
. Some retailers told ICv2 of differences between the customers of the two games, with
D&D 4.0
appealing to new players and people that don't want to get super-involved in an RPG, and
Pathfinder
the choice of players that want to spend more time on playing.
Expectations are high for the holiday season. "We're ecstatic about how the fourth quarter is looking right now," a distributor told us.
For the lists of the bestselling Collectible Games in the hobby channel, in the mass channel, and over-all,
click here
.
For the bestselling board games in the hobby channel,
click here
.
For the bestselling card/building games in the hobby channel,
click here
.
For the bestselling RPGs,
click here
.
For the bestselling non-collectible miniature games,
click here
.
For information on how to get the new issue of
Internal Correspondence
#77, see "
ICv2 Releases 'Internal Correspondence' #77
."