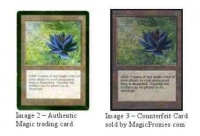 Wizards of the Coast filed suit in federal court today against businesses in four states that it alleges are selling counterfeit Magic: The Gathering cards. In its complaint, WotC says the defendants "…have repeatedly and unlawfully manufactured, marketed and distributed unauthorized reproductions of Magic trading cards." All four businesses, the complaint alleges, sold counterfeit cards and foil cards as "Proxy Cards," legal to use in DCI-sanctioned tournaments.
There is a procedure for judges in tournaments to create Proxy Cards for cards that are too badly damaged to play, but that's typically done with a marker on another card. WotC posted a new summary of its rules regarding counterfeits and Proxy Cards on its site today.
The four businesses named in the suit were scattered around the country and sold through a combination of their own e-commerce sites and postings on third-party sites. Wizards of the Coast engaged in secret shopper purchases of counterfeit cards from the businesses in recent months. The defendants in the case are:
MagicProxies.com, a partnership of Lyndsy Redmore and Jamie Skeen of Carthage Tennessee
TheProxyGuys.com, owned by Randy Christensen of Grand Rapids, Michigan
MTGReplica, by Victoria Marticek of Ridgewood, New Jersey
A BlindCat, by Frederick Carr of Puyallup, Washington
The suit asks for a permanent injunction against selling counterfeit cards, plus direct and consequential damages, compensatory damages, fees and costs.