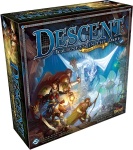 Fantasy Flight Games plans to release a second edition of one of its most popular board games, Descent, in March at $79.95. Originally released in 2005. Descent is a narrative "dungeon-delve' board game where one player takes the role of an evil Overlord and up to four other players take on the roles of fantasy heroes and pit themselves against many dangers the dark overlord can throw at them. Players are immersed in a fantasy world and must use their skills and character traits, as well as treasures, weapons and spells, to survive and achieve the scenario-specific objectives.
This new edition of will feature eight new heroes and thirty-eight new monsters; with an enhanced hero creation and selection process, streamlined rules that will speed up line-of sight determination and encounter set-ups, a class-based hero system and a new quick start campaign system that includes shorter quests.
And as with the original game, this Descent 2E isn't short on game components. The game includes 50 plastic figures, nine custom dice, 48 double-sided, modular map tiles, 150 tokens, and nearly 250 cards depicting the traps and treasures adventurers will find along the way.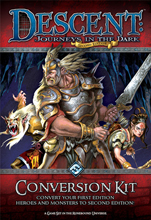 As a supplement to the upcoming
Descent: Journeys in the Dark Second Edition
, FFG will release a
Conversion Kit
to make all previously released heroes and monsters compatible with the new edition.
The kit contains cards for every hero and monster card ever produced, so that fans and players of the first edition game can use them in the new edition. Also included in this kit are all the promotional heroes ever produced and monsters from all past expansions.
The Descent Conversion Kit will retail for around $29.95 and will be available in March along with the new Descent: Journey into Darkness Second edition.