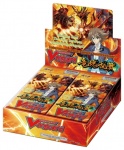 Bushiroad is expanding its sales of the Cardfight! Vanguard TCG in the U.S., with a second booster expansion, Onslaught of Dragon Souls, just shipped and a third planned for June. Two Trial Decks, Blaster Blade and Dragonic Overlord, and the first Booster Pack, Descent of the King of Knights, were previously released in English.
The game launched in Japan in January of 2011, along with the first broadcast of the
Cardfight! Vanguard
anime. Behind an aggressive transit and television ad campaign, the game quickly rose to one of the top slots in the competitive Japanese TCG market, behind Konami's
Yu-Gi-Oh!
and Wizards of the Coast's
Duel Masters.
Some sources, including Bushiroad, told us that
Cardfight! Vanguard
was #3, but we were also told that the game was #3 in pieces but #4 in dollars when compared to
Battle Spirits
(sold in the U.S. for a time by Bandai America, see "
Battle Spirits TCG Series 5
"). Regardless, to rise so high in the competitive Japanese market in such a short period of time indicates that
Cardfight! Vanguard
is a very successful game.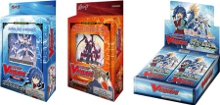 Bushiroad's ambitions for
Cardfight! Vanguard
in the Japanese market are high, a Bushiroad spokesperson told ICv2. "We think we can pass
Duel Masters
this year or next and we can catch up to
Yu-Gi-Oh
!," he said. "This year, our total sales will be one half of
Yu-Gi-Oh
!." As of July 2011, Bushiroad (which produces a number of games in addition to Cardfight! Vanguard and recently acquired New Japan Pro Wrestling) reported total annual sales of 6.5 billion yen, or about US$78.5 million.
Here in the U.S., distribution has been limited, but is expected to grow quickly. We started to hear about the game in the U.S. late last year and early in 2012, when retailers that had access to it started reporting that interest in the game was growing.
At GAMA Trade Show, Peachstate Hobby Distribution was demoing the game, with YY Card World the only other company mentioned by Bushiroad as a U.S. distributor. But the company also said that it expected to expand the number of its distributors in the U.S. and may have done so since. A U.S. office for Bushiroad is under consideration, according to the company's spokesperson.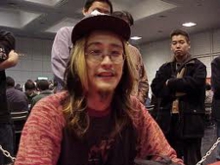 Cardfight! Vanguard
was designed by Satoshi Nakamura, a well-known
Magic
:
The Gathering
pro player who also designed
Fairy Tale
, an early drafting game sold in the U.S. by Z-Man Games. He also worked with Bushiroad on its first TCG,
Weiss Schwarz
.
Weiss Schwarz
was launched in Japan in March of 2008, shortly after the founding of Bushiroad, and quickly became a top ten game there.
An experienced gamer familiar with the Japanese CCG scene told us this about the Cardfight! Vanguard mechanic: "Unlike Duel Masters or Pokemon, there are more timing steps in the game that makes it closer to Yu-Gi-Oh! or Magic. For younger players it's a little more complicated than most 8-12 games in Japan."
The Cardfight! Vanguard anime is available in the U.S. in subtitled form from Crunchyroll, but no U.S. distributor for home video, broadcast, or other streaming services has been announced.
The big question is whether the new games will bring in new players or simply cannibalize existing dollars away from the current games (or fail to do either and disappear). The 2012 scene is the most competitive the U.S. CCG market has been in some time; how that competition plays out will determine whether the strong, profitable growth that hobby game retailers have been experiencing can continue.