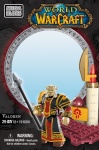 At BlizzCon Blizzard Entertainment announced a new partnership with construction toy experts Mega Bloks, and now the first images of the new World of Warcraft Mega Bloks product line, which debuts this summer, have been released. The new Mega Bloks World of Warcraft Authentic Collector's Series features highly-detailed customizable figures, dragons, vehicles, and more that should appeal to World of Warcraft devotees whether they play online or the WoW TCG or both.
The Deathwing's Stormwind Assault (product # 91016) includes buildable Deathwing and Stormwind plus an exclusive Varian Wrynn and two additional faction figures complete with interchangeable gear that makes them extremely customizable.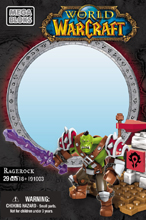 The
Faction Pack Assortment
(91000) includes Colton, Ironoak, Ragerock, and Valoren. The figures, which average about 25 pieces each, allow players to build and customize these faction heroes with interchangeable gear and buildable race-themed displays.
The Collectable Mount Assortment (91007) features the ultimate rides that Azeroth has to offer allowing players to assemble their forces with a Swift Gryphon, Swift Wyvern, Flying Machine, and Goblin Trike. Each approximately 90 piece set includes a buildable faction figure with interchangeable gear to collect and customize.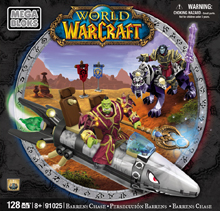 The Barren's Chase
(91025) is a 128-piece set that includes a buildable "two-fer" mount set featuring the exclusive X-53 touring rocket and Darmassian Nightsaber, while the
Sindragosa & The Lich King
(91008)150-piece set includes a buildable Sindragosa and Frozen Throne, plus an exclusive Lich King figure with Frostmourne.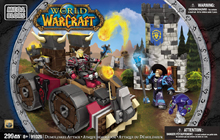 Other elaborate
Mega Bloks WoW
releases due this summer include
Demolisher Attack
(91014), a 299-piece set that allows players to build the Alliance Tower or demolish it with the Horde Demolisher. This set includes faction figures with interchangeable gear plus two launchers to aid in the destruction.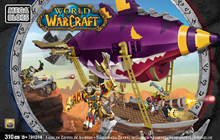 Even more elaborate is the Goblin Zeppelin (91014), a 310-piece set that allows players to get the drop on the Alliance with an airborne, goblin-engineered attacker. The buildable Goblin Zeppelin features front-mounted, brick-blasting missile and faction figures with interchangeable gear.
Some of the Mega Bloks World of Warcraft Collector's Series boxes will feature a special "Hidden Loot" logo indicating that the box contains additional randomly inserted weapons, gear or artifacts.