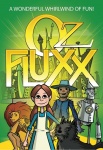 Oz Fluxx

Publisher: Looney Labs
Release Date: March 2012
Price: $15.99
Number of Players: 2-5
Playing Time: 5 to 30 minutes
Format: Box with cards
Product #: 050LOO
Age Rating: 8 and up
ICv2 Rating: 4 Stars out of 5
For a
Fluxx
game, this is surprisingly coherent. The whole concept of the
Fluxx
games is that the rules constantly change, based on the play of the cards. The better versions succeed by making the theme coherent and consistent with the source. This game has included all of the memorable elements of
The Wizard of Oz,
and if you've ever read the book or seen a version of the movie, it will all make sense.
Cards representing key elements of the
Oz
story abound, ranging from the Cowardly Lion to the often-forgotten Fighting Trees. Victory conditions change frequently, so that you might need to have the Wizard and his Hot Air Balloon in play to win, or maybe just a Wicked Witch and her Broomstick. Or maybe even drop a house on the Munchkins, instead of on the witch… or, a Cyclone could come through and change everything. A special promo card has other effects, if the person playing it can sing a line from a
Wizard of Oz
song.
Oz
fans with a sense of humor will enjoy this game, and newcomers who want to learn a quick card game for gatherings will enjoy it as well. Kids and adults will be able to play this one together.
--
Nick Smith: Librarian Technician, Community Services, for the Pasadena Public Library in California.